Dinner Menu
Reservations are highly recommended. Make your reservation online or call 913.384.5998.
Menu subject to change based on season and availability of ingredients. 
Aperitif
marcona almonds — 7
marinated olives — 7
date, blue cheese, bacon — 8
all three — 15
Les Soupes
Soupe du Jour  
Chef Daniel's daily soup selection
cup 7 / bowl 10
Soupe a l'Oignon
onion soup, crouton, bacon, gruyere, beef broth — 12
Les Belles du Jardin
La Salade Caesar *
romaine, anchovy, crouton, parmesan, caesar dressing — 11
Salade d'Endives au Bleu
belgium endive, apple, walnut, blue cheese dressing — 12
La Salade de Chèvre Chaud *
warm goat cheese, butter lettuce, mustard vinaigrette, tomato concassée — 13
Salade de Betterave et Citron
roasted beet, frisee, orange vinaigrette, pickled shallot, pumpkin seed — 15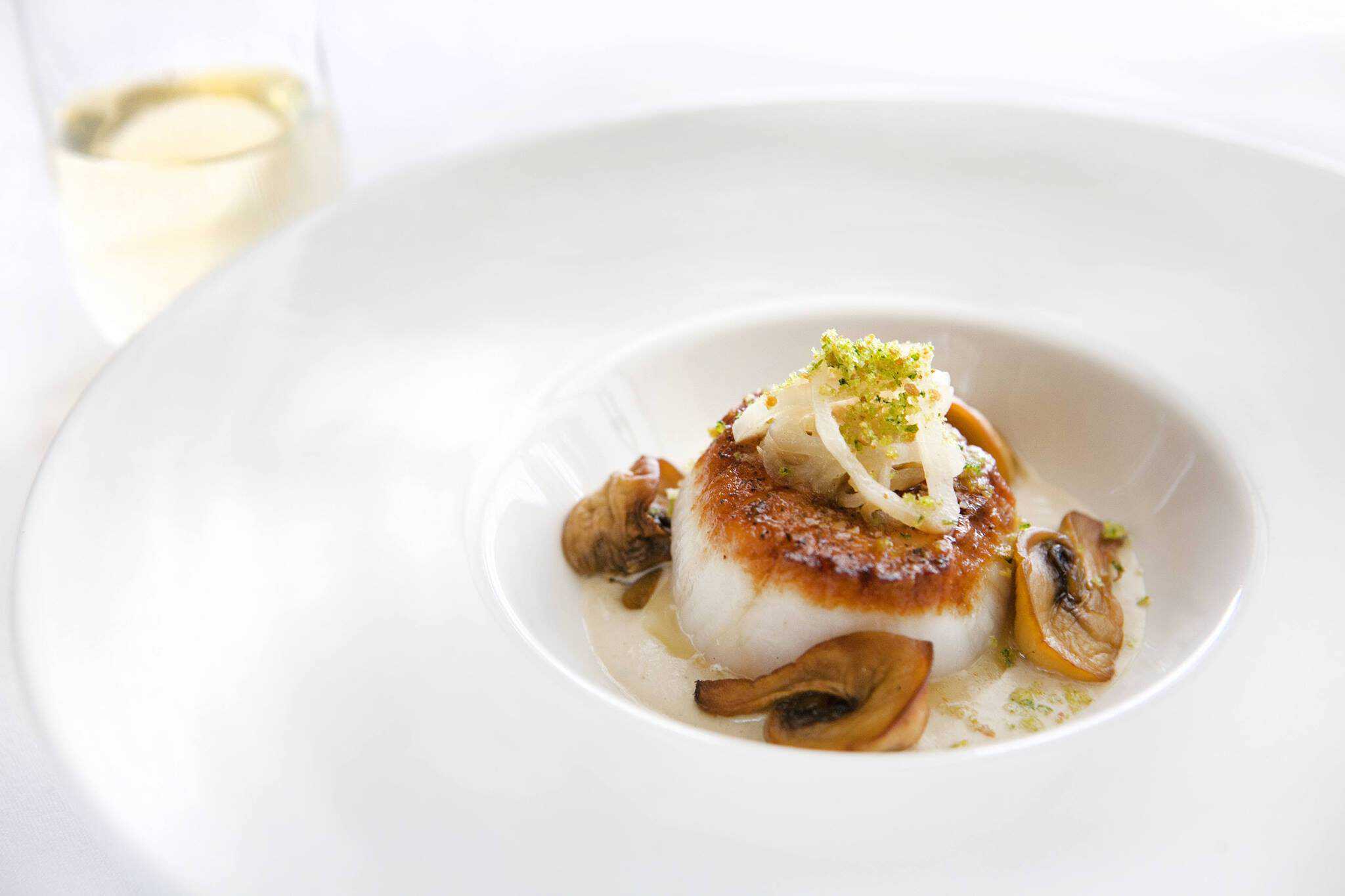 Les Petits Plats
Les Moules Marinières
prince edward island mussels, onion, garlic, parsley, white wine butter broth — 17
Pâté de Campagne
country pork pâté, cornichon, stone fruit compote — 13
Coquilles Saint-Jacques *
pan-seared diver scallop, mustard mushroom cream sauce, shallot, herb breadcrumb — 21
Les Escargots de Bourgogne
burgundy snails smothered in garlic parsley butter — 14
Galette de Crabe Bleu
jumbo lump crab cake, celery root remoulade, mustard tarragon aioli — 21
Foie Gras Terrine
foie gras terrine, brioche, pickled cherry, chestnut puree — 21
Rivieres et Ocean
Filet de Saumon
pan-seared salmon, broccolini puree, fingerling potato, beurre blanc — 32
Ravioles, Crabe et Chou-fleur Roti aux Epices
boursin-filled ravioli, king crab, cauliflower, fennel yuzu butter sauce — 38
Sole de Douvres Meunière
sautéed dover sole, lemon meunière sauce, parsley, fingerling potato, haricot vert — 53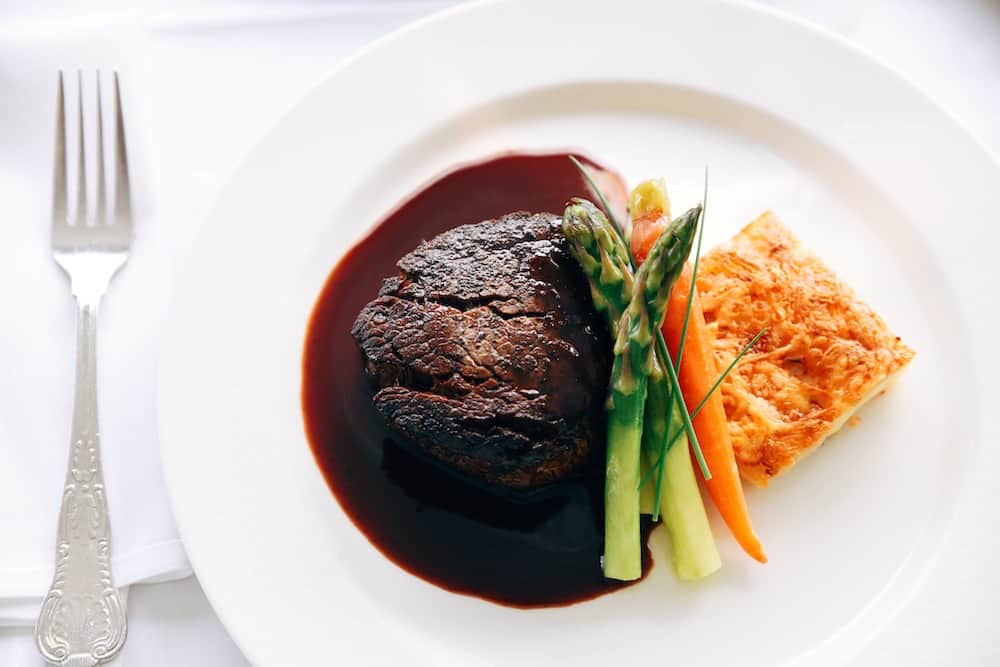 Le Terroir
Côte de Boeuf Braisée au Vin Rouge
braised beef short rib, spiced carrot purée, roasted shallot, brussel sprout, red wine jus — 35
Gigot D'Agneau aux Lentilles
slow cooked leg of lamb, french green lentil, roasted cauliflower, brussel sprout, thyme jus — 34
Les Escalopes de Veau aux Câpres
pan-seared veal scaloppini, lemon butter caper sauce, Daniel's potato gratin, haricot vert, baby carrot — 32
Filet Mignon Sauce Bordelaise *
seared beef tenderloin, red wine sauce, Daniel's potato gratin, asparagus,baby carrot, boursin cheese — 52
Poitrine de Poulet aux Morilles
pan-seared Amish chicken breast, morel brandy cream sauce, asparagus, fingerling potato, baby carrot — 34
VEGETAL
Vol-Au-Vent Jardinière
puff pastry filled with creamed kale, spiced carrot puree, butternut squash, beurre blanc — 22
SIDES
Gratin de Pomme de Terre
daniel's potato gratin — 8
Haricot Vert
french green bean — 8
Puree de Brocoli
broccolini puree — 8
Our meat, poultry, and fish come from ranches, and fisheries guided by principles of sustainability.
* Note:  Consuming raw or undercooked meats, poultry, seafood, shellfish, or eggs may increase your risk of foodborne illness, especially if you have a medical condition
$5.00 split plate charge
Monday - Saturday
11:00am - 2:30pm
Monday - Thursday, 5:00pm - 9:00pm
Friday & Saturday, 5:00pm - 10:00pm
Closed Sunday
3936 W. 69th Terrace
Prairie Village, KS 66208
in the Shops of Prairie Village
Top 100 Restaurants in U.S.
OpenTable - 2021, 2020, 2019, 2018, 2017, 2016, 2015, 2013, 2012
100 Most Romantic Restaurants in America
OpenTable - 2020, 2019, 2018

Visit our French Market, just around the corner in the Shops of Prairie Village, to pick up your favorite Cafe Provence soups, salads, sauces, sweet treats, and more.
3936 W. 69th Terrace
Prairie Village, KS 66208
In the Shops of Prairie Village
913-384-5998